Harlem
A Soulful Sunday in Harlem
It was hot in Harlem today, literally and figuratively, temperatures soaring to 32 degrees.
Standing on the corner of 110th Street and Central Park West a NYC fire truck raged past me, the siren blaring and bells ringing, announcing a rescue form New York's finest. I I was standing with my husband in the middle of a round about at the memorial of Frederick Douglass , I svivled my body 360 degrees to follow the moving truck up the road towards East of the city, it's these moments when you , pray and hope it's not another devasting fire incident, this was my farewell to Harlem , it ended with such drama.
The streets in Harlem today are buzzing, it's alive  with a range of people from all ranges of economic background, I saw churches goers, Puerto Rican ice cream peddlers , it's vibrant and diverse residence , young , old there's people begging , a Rasta on his electric blue motorbike, I saw street corner work out many who come out of prison use the street to workout, gym is where you make it , this is truly a soulful Sunday in Harlem and an interesting place to people watch.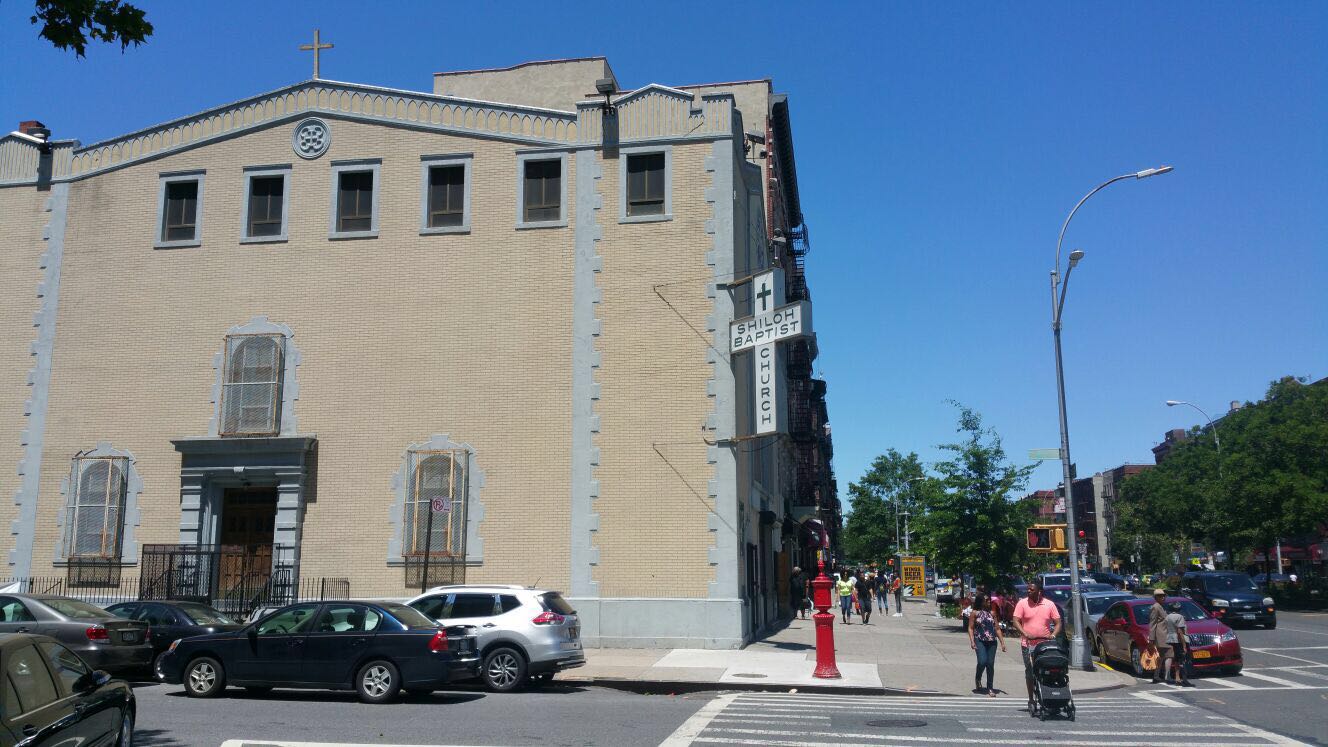 Harlem is where it's happening on a Sunday afternoon when folk are coming out of churches in their Sunday best, playing basket ball on the street, or sitting at the local cafe enjoying a slow Sunday brunch. Harlem is the epicenter of Black American life, the spiritual and cultural home that inspired the Harlem Renaissance in the 1920s through the 1930s that produced famous writers, artist, musicians, dancers and intellectuals. Among the authors who became nationally known were Jean Toomer, Jessie Fauset, Claude McKay, Zora Neale Hurston, James Weldon Johnson, Alain Locke, and Langston Hughes. The Harlem Renaissance helped lay the foundation for the post-World War II phase of the Civil Rights Movement. And while these artists are long gone, the creativity that is unique to Harlem continues today.
As the world is a small one, my friend Paula suggested we contact her nephew Abehjha, a longtime Harlem resident and film editor. Having a local resident show you their neighborhood offers a personalized experience, not a touristic one. We met Abehjah, a tall young handsome black man, who was waiting to take Lars and I around his town.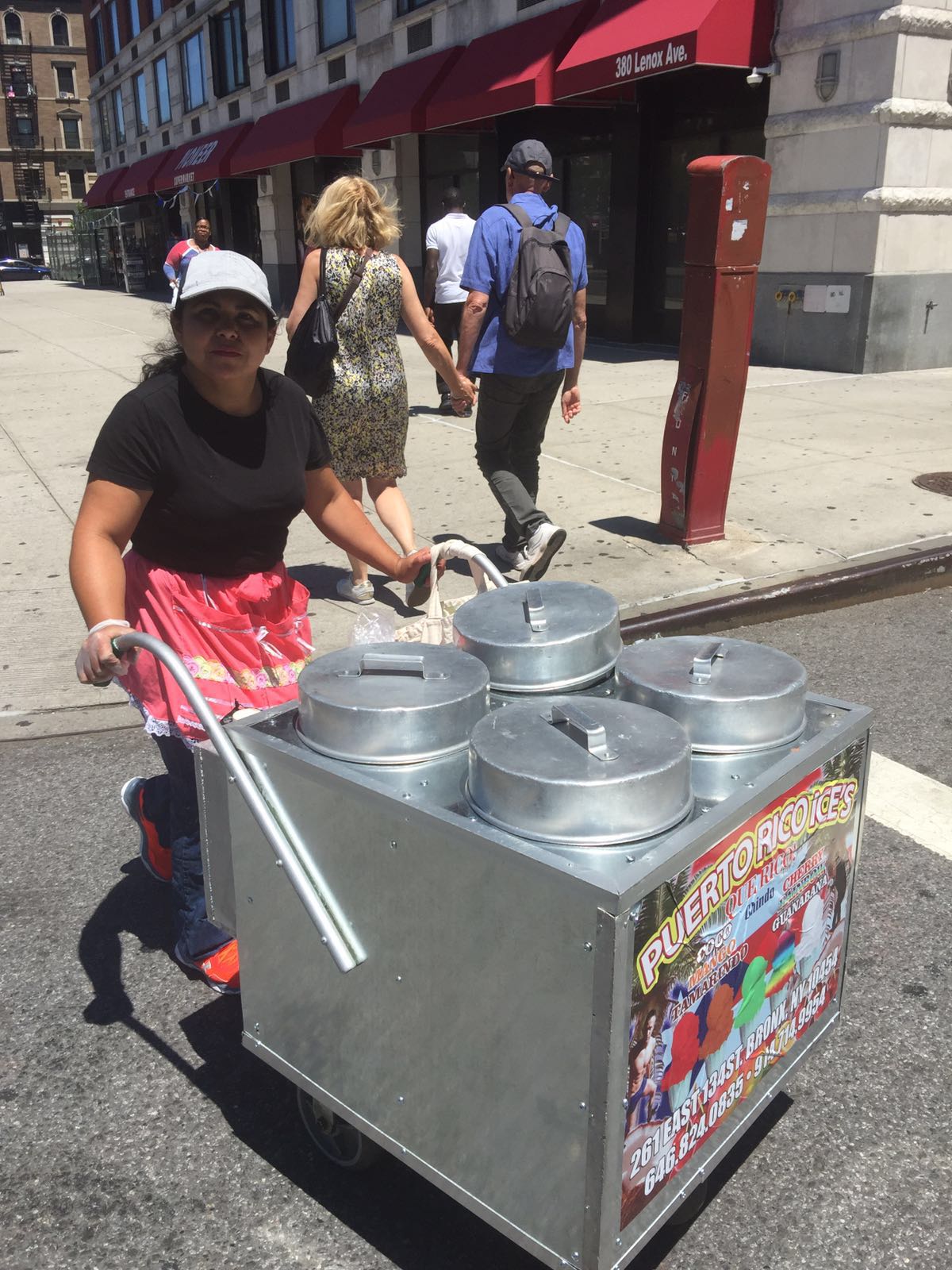 Apollo Theatre
The Apollo Theatre from the 1930s had a walk of fame outside its entrance reminding us of the brilliant and talented performers including Billy Holiday, Ella Fitzgerald, James Brown, Jimi Hendrix, Billy Eckstine, and so many more. My favorite star that performed there s Eddie Murphy who did is debut " Dillerioious" stand up comedy, which is in my view one if the funniest I have ever heard. Paula even informed me her father performed during the famous "Amateur Night" in the 1940s, was told by Pearl Bailey and Billy Eckstine that he was one the greatest singers they had heard, and he "stopped shows" there – the ultimate compliment. So many stories crossing paths!
We stopped at Cecile, a jazz haunt reminiscent from the past when jazz cafes such as Minmoes were at the height of fashion and entertainment from that era. I ordered a glass of champagne while my husband had a Bloody Mary, with our light lunch of smothered chicken and tempura style okra. This dish was also a reminder of the past in its origin from the Southern states of America, where the great black American migration brought people from the South looking to escape the Jim Crow racism for a better life. It was a rich cultural experience to eat soul food and hear  the sounds of a cool young trendy looking band playing the blues and a mix of modern hits from Adele.
The main vocalist stood with a microphone, hardly moving but the sound was sweet. Near him singing was a backup  good looking black woman with a BIG Afro hairstyle – her big Afro could knock any one over. I asked her for a selfie and what a pleasure that was for her to meet me… of course with my British accent it goes down well in a local place. Meeting people is always highpoint of travel, as earlier in the morning I met another beauty with a large Afro, though hers was purple. Afros must be back in fashion …perhaps I will try it one day soon so be on the lookout!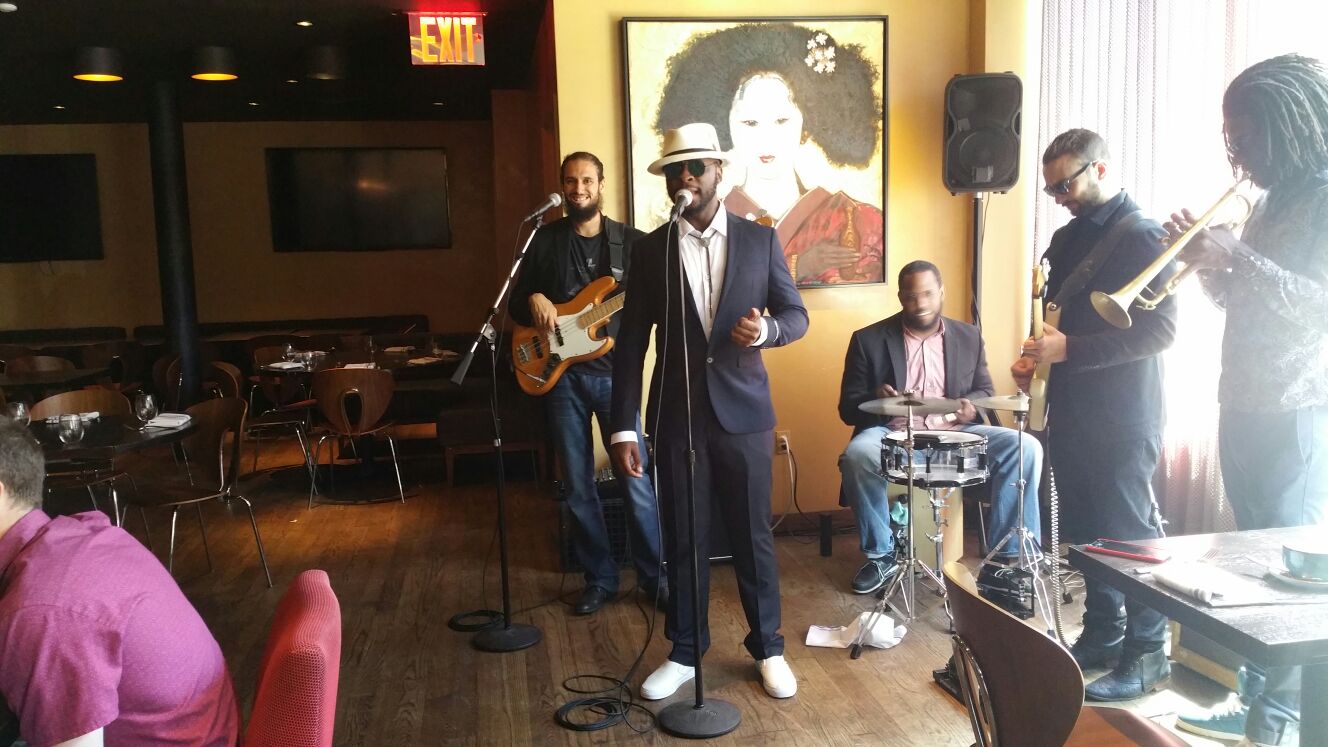 We strolled up Marcom X Boulevard and many of the well know Harlem streets into one of the public housing projects, St Nichols, which was quite a nice place today with an all in one built in community? A park, play ground, school and community center were well maintained. In the 1980s Harlem had high crime and poverty rates, with property values much lower than they are today. While there remain pocket so poverty, Harlem is now being gentrified and with that comes both good and bad. This is a common problem in many cities; however, Harlem has a history and is a cultural, political and social icon for black Americans. While Harlem and its residents may benefit from the changes, it is important to also preserve its "soul" and history on this soulful Sunday in Harlem . A great article in the New York Times explains this, this is something being from the UK is interesting to read as it displays current tension in the community, which we have similarity though on a different scale in the UK which I am sure some could relate too, written by Michael Henry Adams, a historian on Harlem and another coincidence is he is also an aquaintance of my friend Paula who recommended I read the article. Aren't connections great? http://www.nytimes.com/2016/05/29/opinion/sunday/the-end-of-black-harlem.html?_r=0